Events
---
Aside from being a resturaunt, we put on fun events and specials that everyone can enjoy. We hope you choose to come have fun with us!
Online Ticket Sales: You will not receive printed tickets. Your name is automatically added to our seating list and you will be seated upon checking in at the door on the night of the event. Please be sure to retain your receipt from your online purchase and bring it with you on the night of the event.
All seating is on a first come, first serve basis, unless parties of eight (8) or more are purchased under the same name. Groups wishing to sit together should purchase tickets under the same party name at the same time.
Kids Eat Free Mondays
Date: Monday, December 11, 2023
Time: All day
Don't feel like cooking? Come on down and join us for Free Kids Meal Mondays! It's the perfect way to unwind after a long day and enjoy some quality time with your family. Enjoy one FREE kids meal for kids 10 and under with purchase of $11.99 or higher meal, dine-in only.
Fiesta Tuesday
Date: Tuesday, December 12, 2023
Time: All day
It's Tuesday, and that means it's time for our Fiesta Tuesday special! $2.00 Tacos starts at 4 PM. Choose from beef, chicken or fish. Taco dinner $9.99 includes three tacos served with beans and rice.
Half Off Wine
Date: Wednesday, December 13, 2023
Time: All day
Celebrate Wednesdays with our Half Off Wine special! Indulge in our featured pasta entrées and pair with a glass of wine.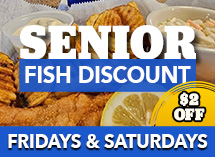 Senior Discount
Date: Friday, December 15, 2023
Time: Before 5 PM
Seniors 55 and up, enjoy $2 off all fish dinners before 5 PM! Come and savor our delicious and fresh seafood dishes, perfectly cooked to your liking.
DJ & Karaoke
Date: Friday, December 15, 2023
Time: 9:00 pm - 1:00 am
Come join us for a night of fun, music, and singing! Whether you're a seasoned pro or a first-time karaoke singer, we welcome everyone to come and have a good time.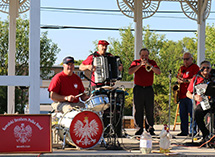 Kowalski Brothers Band
Date: Sunday, December 17, 2023
Time: 4 PM - 8 PM
Prices: FREE
Come join us for the area's favorite, The Kowalski Brother's Polka Band!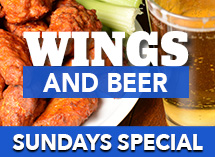 Wings & Beer
Date: Sunday, December 17, 2023
Time: Before 5 pm
Join us on Sunday for wings & beer! Six traditional wings with a 16 oz domestic draft just $10.99 before 5 pm